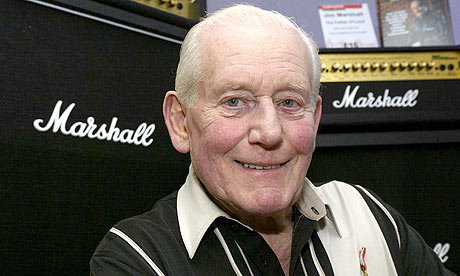 Para empezar esta nota tomaré prestadas las palabras de Slash de Guns and Roses: "La noticia del fallecimiento de Jim Marshall es profundamente triste. El rock & roll nunca será lo mismo sin el, pero sus amplificadores vivirán para siempre!"
Esto resume en pocas palabras el legado que el "Father of Loud" ha dejado para la industria de la música desde que por allá en los años 60 empezará a fabricar amplificadores, luego de haber escuchado atentamente a las necesidades de algunos grandes guitarristas como Ritchie Blackmore, Jim Sullivan y Pete Townshend y de embarcarse en una aventura que le hizo ganar nombre a su marca harto conocida hoy dia: Marshall Amplification.
Jim
era la última piedra angular del sonido del rock que todos conocemos hoy día: sus otros compañeros ya fallecidos fueron:
Leo Fender, Les Paul
y
Seth Lover
.
Aquí el sonido de una de sus joyas: